GAM Newsletter
29 April 2010
Cosmic Concert - get ready for an unforgettable musical experience

On Wednesday, April 28, 19.00 U.T., you can enjoy an online "Cosmic Concert"— a live piano solo performance organized in celebration of Global Astronomy Month (GAM2010). This unforgettable musical experience is composed by Giovanni Renzo and takes inspiration from astronomical events such as pulsars, black holes and transformation of star maps into musical score. Accompanying the music are videos by Valentina Romeo and Gianluca Masi.



Cosmic Depths - To say good bye to Global Astronomy Month, at the Virtual Telescope will run a very special event, traveling across space and time, leaving the Earth for the Moon, galaxies and the most distant objects in the Universe.
GAM events around the world
Belgium -
Global Star Party at Fernelmont,Belgium

Germany -
Excellent weather over Germany
Sidewalk Marathon in Erding

Iraq -
Continuing the MEP in Erbil, Iraq
Last event of GAM in Ranya district, Iraq

Indonesia -
GAM in Indonesia

Ireland -
Hubble Anniversary Image Art Astronomy Workshop in Dublin
Moon talks and Moon views in Balbriggan and Swords Libraries
Irish Astronomical Society Star Party in Sandymount Dublin

Philippines -
Global Star Party celebrated in the Philippines

Sri Lanka -
UNAWE program in Sri Lanka

USA -
Two Days of GAM on a Maine Island
Hands on activities saved the day!

Would you like to feature your GAM event on GAM Members Blog? Send us a brief report with photos to info@gam-awb.org


Other Announcements
GAM Picture of the Day
Have you got a great photo of your GAM event? Send it to gampod@gam-awb.org and we may choose it for the GAM Picture of the Day. Be sure to tell us who is in the photo, what's happening, where it is and when the photo was taken. And check out all the GAMPODs so far!
The GAM trailer -- 2-1/2 minutes of astronomy around the world accompanied by music -- is now available in Spanish and Romanian on the GAM Resources page.
Search IYA2009 Updates
---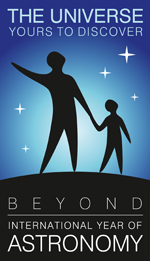 National Nodes: 148
Organisational Nodes: 40
Organisational Associates:33
National Websites: 111
Cornerstone Projects: 12
Special Task Groups: 11
Special Projects:16
Official Products:8
Media Partners:22