Global Astronomy Month 2010: Inaugurating a New Annual Celebration of the Universe
28 May 2010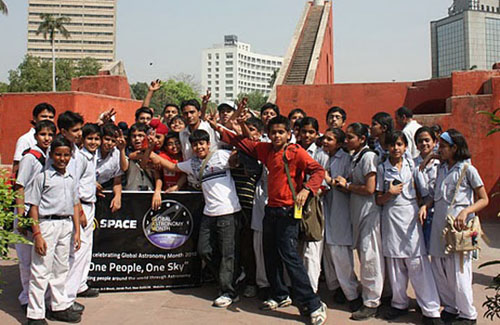 Global Astronomy Month (GAM), a project of Astronomers Without Borders (AWB), has captured the energy of the International Year of Astronomy 2009 (IYA2009) and refocused it as an ongoing annual celebration of the Universe.
GAM 2010 saw professional and amateur astronomers, educators and astronomy enthusiasts from around the globe participating together in the spirit of IYA2009. The outstanding public participation experienced in this month-long series of outreach events has led Astronomers Without Borders and its partners to declare Global Astronomy Month an annual event to take place each April—and several global projects launched during GAM 2010 will continue throughout the year as ongoing Astronomers Without Borders programs.
"Global Astronomy Month wasn't envisioned as a one-time event," said Mike Simmons, President of Astronomers Without Borders. "It was meant to be a platform that would bring partners and new programs together. This inaugural event showed what could be accomplished, and proved the value of an annual month-long event. With the astronomy community looking forward to GAM each year, we expect it to become a regular launching pad for new initiatives."
The Global Star Party and SunDay, begun as part of the landmark 100 Hours of Astronomy Cornerstone Project of IYA2009 in April 2009, will be back in 2011. A newcomer, Lunar Week, will continue as well. Other special initiatives, such as GAM 2010's Saturn Watch, will be organized around special opportunities each year.
Some programs have been added to AWB's array of year-round activities, including Internet-based remote observing sessions, a global dark skies campaign and a new astropoetry project.
Remote Observing Programs, in collaboration with the Virtual Telescope (VT) of Bellatrix Observatory in Italy, were among the most successful GAM initiatives. More than 32,000 visitors from 120 countries visited the VT website for programs such as: "Online Messier Marathon" (with 6500 participants from more than 100 countries); "Is There Anybody Out There?" (1500 participants from 80 countries); "Here Comes the Sun" (500 participants from 60 countries); "Walking on the Moon" (2200 participants from 70 countries); and "Cosmic Depths" (1900 participants from 60 countries). These were all guided programs with Dr. Gianluca Masi of VT as the online host. In addition, "The Universe at Your Command" gave those interested in a "do it yourself" experience a chance to operate the telescope on their own. All of these remote observing opportunities were offered free of charge by Bellatrix Observatory. Following their great success during GAM, the Virtual Telescope and AWB will continue to collaborate and expand remote observing programs.
One Star at a Time, a global light-pollution awareness and action campaign that engages people worldwide in preserving and protecting the night sky above their own sites, was launched during GAM as a long-term AWB program. Goals for 2010 include gathering one million pledges to preserve the night sky and adding one thousand observing sites to the registry of the Global StarPark Network. The One Star website and a Facebook Cause page have more information, and pledges are taken on the website.
The Astropoetry blog, launched during GAM, will continue with regular updates under the direction of AWB editor, author and astropoet Bob Eklund. Readers are invited to contribute poetry of the night sky—new or old astropoems, essays, experiences, book reviews, links to astropoetry resources, and information on astropoetry events. Contributions of content for the blog should be sent to: astropoetry@astronomerswithoutborders.org.

GAM 2010 also featured new programs built on international collaboration with interaction between participants from around the world. One such program was 30 Nights of StarPeace, part of the ongoing StarPeace project that brings together observers across national boundaries. For GAM, StarPeace created a global peace chain encircling the world over a month's time, joined by the common passion for observing the sky. A highlight of the 10 segments of longitude forming the chain was the one in west Asia, the Middle East and east Africa, when ten countries organized simultaneous observing sessions, linking their sessions via the Internet .
Another very popular program, Cosmic Concert, combined the beauty of the night sky with the evocative power of music in a highly innovative new approach to enjoying astronomy.
Participants in GAM 2010 events registered on the official website are invited to download certificates acknowledging their efforts and enthusiasm. Event organizers can register events, publish public reports with photos and download certificates through June.
More information:
Astronomers Without Borders
Astronomers Without Borders is dedicated to fostering understanding and goodwill across national and cultural boundaries by creating relationships through the universal appeal of astronomy. The projects of Astronomers Without Borders bring people together through a common interest in something basic and universal—sharing the sky.
Contact Persons:
Mike Simmons
President, Astronomers Without Borders
Chair, GAM2010 Working Group
+1 818 486 7633
Oana Sandu
GAM2010 Public Relations Coordinator
+40 724 024 625
Search IYA2009 Updates
---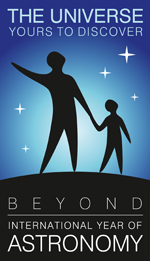 National Nodes: 148
Organisational Nodes: 40
Organisational Associates:33
National Websites: 111
Cornerstone Projects: 12
Special Task Groups: 11
Special Projects:16
Official Products:8
Media Partners:22