setiQuest is looking for a community manager intern
15 June 2010
Where do you want to go this summer?
The Quest
setiQuest is an effort to tap into the global brain trust, harness the power of citizen scientists, and educate the next generation of Earthlings to improve current searches for extraterrestrial intelligence and better understand our place in the cosmos. We are creating a community—or if you prefer, a tribe—to actively involve the world in the ultimate search for cosmic company. setiQuest is the concretization of Jill Tarter's 2009 TED wish to change the world. We are looking for a summer intern, Community Manager to help harness and harvest the power of this tribe.
Training
While at SETI you will have access to some of the most prolific scientists in astronomy and astrobiology who are focused on scientific research, education and public outreach. Their work, along with The Quest, has the possibility to change our understanding of life, the origin of life, or to discover if other planets in our universe can support life.
Talents
We are looking for an individual who is passionate about all forms of communication and exploration. You are someone who is comfortable with working with limited direction, but still very focused on meeting targets and deadlines. You are open to new ideas and like meeting new Earthlings, virtually or in-person. A good day is when you discover something new or when you are challenged to rethink everything you thought to be true.
Experience
You have a strong knowledge of the many social media platforms including Twitter and Facebook, as well as a good understanding of web analytics. You host your own blog and/or often contribute to other public online forums. You have some experience in defining and executing against an editorial calendar. A background in best practices in web design and/or web development would also be welcomed.
Responsibilities
Working with the community guidelines, you will grow the setiQuest community; increase community engagement, while also leveraging other social media platforms. Your daily communication with your tribe will be predominately on the setiQuest forums. Utilizing the brainpower of the SETI Institute's team of scientists you will address any key questions and seed the forum with new discussions. You will also provide guidance and input into the setiQuest site as it relates to community.
If you are ready to join the Quest and guide this tribe, please send your resume and brief note describing your place in the cosmos to: jobs@setiquest.org
Search IYA2009 Updates
---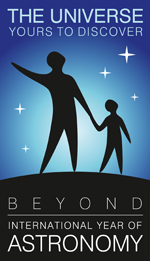 National Nodes: 148
Organisational Nodes: 40
Organisational Associates:33
National Websites: 111
Cornerstone Projects: 12
Special Task Groups: 11
Special Projects:16
Official Products:8
Media Partners:22