Earth & Space Science: Making Connections in EPO
23 June 2010
A Symposium, Aug. 1 - 4, in Boulder, Colorado
Hosted by the Astronomical Society of the Pacific (ASP)
and Geological Society of America (GSA)
------------------------------------------------------------------------------------------------------

We encourage you to make plans to attend this dynamic EPO Symposium
coming up at the beginning of August:
http://www.astrosociety.org/events/meeting.html

Early registration discounts end June 30th. For registration information, see:
http://astrosociety.org/events/2010mtg/registration.html

A set of fascinating geology hikes has now been scheduled for 9 am Sunday
morning, Aug. 1. See http://astrosociety.org/events/2010mtg/hikes.html.

Featured plenary speakers and panelists will include:

* Ed Prather and Emily CoBabe-Ammann on mutual interests of college
instructors and earth & space science EPO professionals
* Atmospheric Scientist Susan Solomon (who won the Nobel Peace Prize
along with Al Gore) updating us on global warming
* Peter Hewson, noted science education pioneer, on how people learn science
* Dennis Schatz, Michael Wysession and others on K-12 frameworks and standards for
earth & space science
* Rick Fienberg, Gary Lewis and others on citizen science across the disciplines

Here is a sampling of one-hour workshops that have now been
confirmed for this 2010 EPO conference:

* Making Connections with Underserved Communities, Broadening Participation
in the STEM Fields
* Supporting Online Communities
* NASA E/PO Networks - How to Use Them to Your Advantage
* Teaching Climate Change
* Teaching with Galileoscopes and Other Small Telescopes
* The Intersection of NASA Astrophysics E/PO and Higher Education
* Video Tips for Worry-Free Informal Presentations
* Exploring assessment tools for research and evaluation in astronomy
education and outreach
* Know Your Earth: A Fun Multi-Mission, Multi-Media View of NASA
Earth-Observing Satellites and Global Climate Change.
* Highlighting the Moon: Using Lunar Education Resources to Enhance K-12
STEM Education for Classrooms and Science Centers
* NASA SMD Earth and Space Science Education Product Review
* Activities Helping Students Explore the Science of Climate and Ways to
Take Action for the Health of the Planet
* Dealing with Public Fears of Doomsday 2012
* Astrophotography for All: Capturing the Colorful Cosmos with Online
Telescopes
* Surrounded by Science - Improve Your Practice by Exploring What Research
Says about Learning Science in Informal Environments
* u *can* diy! Using Social Media in Science Education and Public Outreach
Programs to Connect with Audiences
* Astronomy Meets the Environmental Sciences: Activities for Informal and
Formal Educational Settings

Session lead presenters at the symposium will be representing organizations
such as:
- National Optical Astronomy Observatory
- Space Sciences Laboratory -- U. of California, Berkeley
- Space Telescope Science Institute
- Lunar and Planetary Institute
- University of Arizona
- NASA Goddard Space Flight Center
- NASA Lunar Science Institute
- The Institute for Global Environmental Strategies
- University Corporation for Atmospheric Research
- Lawrence Hall of Science
- Gemini Observatory
- University of Colorado at Boulder
- University of Wyoming, Center for Astronomy & Physics Education Research
- Cooperative Institute for Research in Environmental Sciences
- SETI Institute
- Harvard-Smithsonian Center for Astrophysics
- Pacific Science Center

Inexpensive hotels and campus residence halls have been arranged, but
lodgings are going fast. More info is at
http://astrosociety.org/events/2010mtg/lodging.html.

There will also be a concurrent symposium, Cosmos in the Classroom, for
instructors of introductory college courses in astronomy and related fields.
See http://astrosociety.org/events/2010mtg/cosmos.html.
Search IYA2009 Updates
---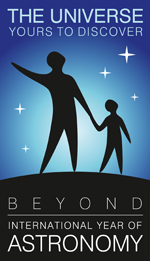 National Nodes: 148
Organisational Nodes: 40
Organisational Associates:33
National Websites: 111
Cornerstone Projects: 12
Special Task Groups: 11
Special Projects:16
Official Products:8
Media Partners:22