Music and Astronomy Under the Stars
20 July 2010
"Music and Astronomy Under the Stars" is a program run by Dr. Donald Lubowich, from Hofstra University, with funding from NASA. The idea is to combine musical concerts, stargazing and multimedia presentations. Yesterday, together with the White House OSTP, they held a star party on the National Mall, in downtown Washington DC.
The site was chosen next to the Washington Monument obelisk, where many locals go running or go for a walk, just blocks from the White House.
The event used also the prolific help of local enthusiast, from astronomy associations in the area and their telescopes, to NASA HQ with plenty of EPO material to give away. Altogether more than 20 telescopes of all sizes were used to observe, first the Sun and its small current sunpsot, and then the stars, planets and all shorts of celestial objects. The enthusiasm and expertise of the telescope owners were matched by the awe and joy of a growing group of amazed runners and by-walkers.
Looking for the first time at a solar sunspot (with filters!), or the Moon and its orography, or the marvellous Saturn with its rings. All accompanied by multimedia presentations on a screen with amazing videos and music. There is a limit on what one can see from such a light-polluted city, but surely enough to make people, adults and kids alike, be amazed and make question after question.
For more information please contact Dr. Donald Lubowich.
Report by Bruno Sanchez-Andrade Nuño:
http://home.brunosan.eu/2010/07/16/astronomy-night-on-the-national-mall/
More information:
White House blog: http://go.usa.gov/Opw

Astronomy mMagazine blog: http://cs.astronomy.com/asycs/blogs/astronomy/2010/07/14/bringing-the-stars-to-the-capital.aspx
Search IYA2009 Updates
---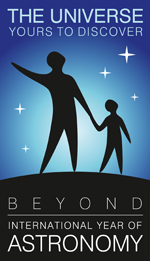 National Nodes: 148
Organisational Nodes: 40
Organisational Associates:33
National Websites: 111
Cornerstone Projects: 12
Special Task Groups: 11
Special Projects:16
Official Products:8
Media Partners:22