What Are Your Plans for World Space Week 2010?
26 July 2010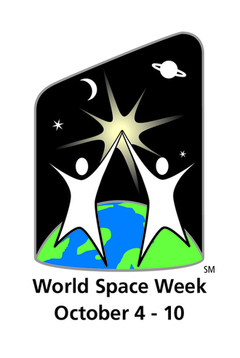 World Space Week is the best time every year to get your space-related messages to the public, students, teachers, employees, government, the media, and other audiences.
To participate, simply schedule space-related programs during October 4-10, promote them as part of World Space Week, and enter them in the global calendar. In doing so, you would join organizations in over 50 nations. With each new event, all participants benefit from the increased global attention to space during that week.
Poster Depicts World Space Week 2010 Theme "Mysteries of the Cosmos"
Designed by noted space artist Pat Rawlings of SAIC, the World Space Week 2010 poster captures the intrigue of space.
World Space Week National Coordinators can receive free copies of the poster thanks to a grant from the United Nations Office of Outer Space Affairs.
The poster is imprinted in the six official UN languages. The artwork without text is also available for use where other languages are spoken.
2009 Report Available
The United Nations Office of Outer Space Affairs (OOSA) has released its report on World Space Week 2009.
2009 marked the 10th anniversary of World Space Week with events held in 55 nations. The following are some highlights:
• U.S. President Barack Obama held a Star Party at the White House
• Ukraine Prime Minister Tymoshenko congratulated space workers on the occasion of World Space Week
• Astronauts on the International Space Station sent a World Space Week message
• 225 EADS Astrium employees gave programs for students in Spain, Germany, the Netherlands, and France
Get Involved!
Join the largest public space event on Earth! You can be an important part of UN-declared World Space Week in several ways:
Global -- World Space Week Association has a number of volunteer positions available. These volunteers work at the global level around the year, helping coordinate and expand this October 4-10 annual event.
National -- Over 60 dedicated National Coordinators promote and coordinate World Space Week in their respective countries. To volunteer at the national level, please contact your country's coordinator. If no one is listed for your country, you can apply to become a National Coordinator.
Event Holder -- You can hold an event during World Space Week. See event ideas, add your events to the calendar, and use the logo in your publicity materials.
Search IYA2009 Updates
---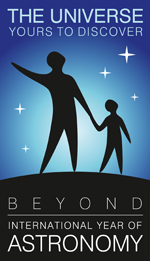 National Nodes: 148
Organisational Nodes: 40
Organisational Associates:33
National Websites: 111
Cornerstone Projects: 12
Special Task Groups: 11
Special Projects:16
Official Products:8
Media Partners:22