Andorra
Single Point of Contact
Dr. Joan-Marc Miralles Bellera
Secretary of State in charge of Higher Education and Research
Ministry of Education and Culture
Government of Andorra
C/ Prat de la Creu 62/64
AD500 Andorra la Vella
Andorra

---
Highlights
Measuring the Earth's radii with a Gnomon
26 March 2009 at noon solar time
Classrooms across the country will try to measure the Earth's radii by using a gnomon at noon solar time.

Public lecture by Dr. Joan-Marc Miralles
20 April 2009
Astronomer Dr. Joan-Marc Miralles will give a public lecture about modern observational cosmology at Sala d'Actes de la Llacuna, Centre Cultural, carrer Mossèn Cinto Verdaguer 4, Andorra la Vella. Weather permitting observations through telescopes will be organised afterwards.

Mathematics and Astronomy
13 - 19 May 2009 (mathematics week in Andorra)
The mathematics week will be dedicated to the relationship between mathematics and astronomy. Several workshops will be available at the hall of the University of Andorra and an exhibit about the Solar Calendar of Bonaventura Adellach will be displayed at the National Library. All other public libraries will showcase their astronomy references.
Search IYA2009 National Nodes
---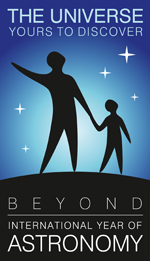 National Nodes: 148
Organisational Nodes: 40
Organisational Associates:33
National Websites: 111
Cornerstone Projects: 12
Special Task Groups: 11
Special Projects:16
Official Products:8
Media Partners:22