United Arab Emirates
Single Point of Contact
Prof. Dr. Hamid.M.K.AL-Naimiy, Dean of College of Arts Sciences
Sharjah University
P.O.BOX 27272
Sharjah
United Arab Emirates

---
Also serves as: President of Arab Union for Astronomy and Space Sciences
---
Highlights

The 9th Gulf Astronomy Colloquium & Astronomy teachers' workshop in Al-ain /Abu Dhabi/UAE
28 - 29 March 2009
The Colloquium and workshop will be organised jointly by the three UAE Universities (UAEU, University of Sharjah and American University of Sharjah). Participants are astronomers and young and amateur astronomers, from UAE and other Gulf countries.
The UAE Physics and Astronomy Festival
7 - 9 April 2009
This Festival will be organized in Sharjah by the University of Sharjah in collaboration with UAEU & American University of Sharjah. The audience will be mainly high-school students and teachers from around the UAE along with their parents.
The Closing Ceremony of the national UAE IYA2009
4th week of December 2009
The Ceremony includes invited speakers, round table discussions; astronomy exhibition, public lectures, astronomy night and conclusion for the UAE IYA2009 activities. Participants' are senior and joiner astronomers, physicists and space scientists including public and media.
Search IYA2009 National Nodes
---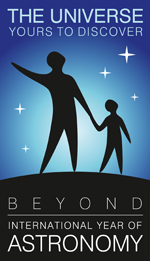 National Nodes: 148
Organisational Nodes: 40
Organisational Associates:33
National Websites: 111
Cornerstone Projects: 12
Special Task Groups: 11
Special Projects:16
Official Products:8
Media Partners:22