Bahrain
Single Point of Contact
Prof. Shawqi Al-Dallal, Professor of Physics at Bahrain University
University of Bahrain
Department of Physics Sukhair
P.O. Box 32038

Bahrain

---
Additional positions held:
Vice President of the Arab Union for Astronomy and Space Sciences
President of Bahrain Astronomical Society
Alternative website: http://www.uob.bh/


Highlights
The birth and death of stars
End of January onwards
An exhibition containing about 100 photographs which will be inaugurated by the King of Bahrain.

Introductory Astronomy
February 2009 onwards
Workshops for schools.
Astronomical Lectures
Talks on topics such as the big bang, dark matter, quasars, and the new Solar System.
Search IYA2009 National Nodes
---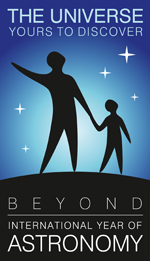 National Nodes: 148
Organisational Nodes: 40
Organisational Associates:33
National Websites: 111
Cornerstone Projects: 12
Special Task Groups: 11
Special Projects:16
Official Products:8
Media Partners:22