China - Nanjing
Single Point of Contact
Dr. Jin Zhu
Beijing Planetarium
No. 138 Xizhimenwai Street
Beijing 100044
China - Nanjing

---
Highlights
Local IYA2009 Opening Ceremony
1 January 2009
Opening Ceremony and Press Release for IYA2009 on the first day of the New Year, Beijing Planetarium.
Astronomy Promotion Activities just before the 2009 Total Solar Eclipse
8 - 21 July 2009, mainland China
Including lectures and exhibits on the Solar Eclipse, in many cities and towns, as well as on TV.
Astronomy Promotion Activities
Throughout 2009
At each place (university or some city/town), mainly 3 parts: lecture by professional astronomer; sidewalk astronomy by amateurs; small exhibit with poster. To be held at as many universities as possible, and at more than 100 cities/towns.
Search IYA2009 National Nodes
---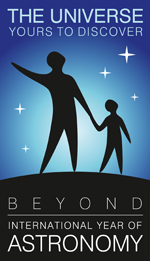 National Nodes: 148
Organisational Nodes: 40
Organisational Associates:33
National Websites: 111
Cornerstone Projects: 12
Special Task Groups: 11
Special Projects:16
Official Products:8
Media Partners:22