Estonia
Single Point of Contact
Dr. Kalju Annuk
Tartu Observatory
Estonian Academy of Sciences
EE - 61602 Tõravere
Estonia

---
Highlights
Annual meeting of people who are interested in astronomy
4 days in August
The main tasks are: astronomical lectures, practical observations, counting of meteors, and so on.
Estonian Scout & Guide Camp "Tähemets" 2009
11 - 18 July 2009
This regular camp of Estonian Scouts and Guides will be dedicated to astronomy.
http://www.skaut.ee/yritus/?id=400248#vaata
Public lectures and sky observations
All through the year 2009
A series of lectures about astronomical themes.
Search IYA2009 National Nodes
---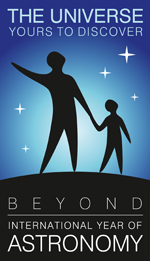 National Nodes: 148
Organisational Nodes: 40
Organisational Associates:33
National Websites: 111
Cornerstone Projects: 12
Special Task Groups: 11
Special Projects:16
Official Products:8
Media Partners:22