Egypt
Single Point of Contact
Ayman Elsayed
Bibliotheca Alexandrina
Alexandrina, Planetarium Science Center
Chatby 21526
Alexandria
Egypt

---
Some activities in Egypt
Summer Program at the Bibliotheca Alexandrina
The Planetarium Science Center at the Bibliotheca Alexandrina starts its annual summer program on the 20th of June. This year as the International Year of Astronomy, there is 2 workshops related to Astronomy, such as Stars workshop and Solar System workshop, as well as Eratosthenes Festivity to repeat the experiment of Eratosthenes to measure the circumference of the Earth. Also there will be two astronomy camps in two protectorates in Egypt, namely Siwa and Saint Catherine, where students will do sky observations and other astronomy activities.
"Pages of the Sky" Exhibition
This exhibition displays unique volumes by the 15th - 17th Century prominent European astronomers, in order to celebrate the International Year of Astronomy (IYA 2009), in the context of the Egypt-Italy Science Year (EISY 2009). Among the books on display is the first edition of Sidereus Nuncius, by Galileo Galilei (1610), in which celestial bodies are first described as based on telescope observation; De Revolutionibus Orbium Coelestium, by Nicolaus Copernicus (1566); and the recently restored Firmamentum Sobiescianum, the celestial atlas by Johannes Hevelius (1690). Visitors will be able to see the books and browse them virtually on the computers accompanying the exhibition.
Bibliotheca Alexandrina - Planetarium Science Center - IYA2009 Activities: http://www.bibalex.org/en/psc/GetInvolved/IYA2009.aspx
Contact: Planetarium Science Center
Bibliotheca Alexandrina
P.O. Box : 138, Chatby,
Alexandria 21526, Egypt.
Tel.: +203 483 9999
Ext.: 2350 - 2351
Fax: +203 482 0464

For information or comments about the Planetarium, please send to:
Planetarium@bibalex.org
Search IYA2009 National Nodes
---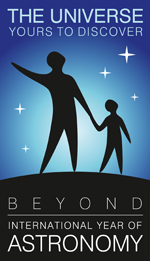 National Nodes: 148
Organisational Nodes: 40
Organisational Associates:33
National Websites: 111
Cornerstone Projects: 12
Special Task Groups: 11
Special Projects:16
Official Products:8
Media Partners:22