Honduras
Single Point of Contact
Prof. Maria Cristina Pineda de Carias, President Central America Assembly of Astronomers (CAAA)
Universidad Nacional Autónoma de Honduras
Universidad Nacional Autónoma de Honduras
Ciudad Universitaria
Tegucigalpa
Honduras

---
Highlights
Astronomy for Everybody
Twice per week, between 14 January and 16 December, every Wednesday and Thursday
Central America Suyapa Astronomical Observatory (CASAO) hosting students and observing sessions.

The Universe: Yours to Discover
Beginning 15 January
This will be a series of TV programmes about astronomy education.

Central America Course in Astronomy and Astrophysics
This is a regional course developed by and for all the Central America astronomers and university students. Research papers and poster papers are presented and international astronomers are also invited.
Search IYA2009 National Nodes
---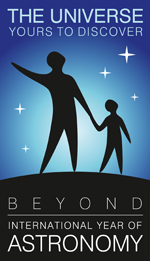 National Nodes: 148
Organisational Nodes: 40
Organisational Associates:33
National Websites: 111
Cornerstone Projects: 12
Special Task Groups: 11
Special Projects:16
Official Products:8
Media Partners:22