Korea, Republic of
Single Point of Contact
Dr. Hong-Kyu Moon
Korea Astronomy and Space Science Institute (KASI)
61-1 Whaamdong
Yuseonggu
Daejun
305-348, Korea
Korea, Republic of

---
Highlights
Astronomical Encyclopaedia
Throughout 2009
Putting astronomical information together on the web as an astronomy portal site similar to Wikipedia.
Live Broadcast of the Eclipse
21 July 2009
Broadcasting the total eclipse live on national and international networks.
Korean Astrofest
First part of April 2009
Hosting a big star party, music concerts, exhibition of astronomical pictures and open meeting with astronomers in suburban area of major big cities.
Search IYA2009 National Nodes
---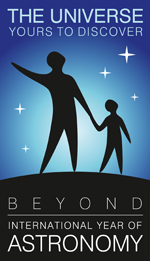 National Nodes: 148
Organisational Nodes: 40
Organisational Associates:33
National Websites: 111
Cornerstone Projects: 12
Special Task Groups: 11
Special Projects:16
Official Products:8
Media Partners:22