Latvia
Single Point of Contact
Dr. Martins Gills
Periodical "Zvaigznota Debess" (Starry Sky)
Institute of Astronomy
University of Latvia
Raina bulvaris 19
LV-1586 Riga
Latvia

---
Highlights
Public sky demonstration network
January to April and September to December
Simultaneous public sky demonstrations in approx. 30 locations in Latvia.

100 hours of astronomy
2 April stamps, 3-4 April 2009, school excursions
First day for two astronomical postage stamps, and all-day excursions of school students to our observatories, broadcasting of "Eyes on the skies" on our public television channel.
Aquila astronomy camp and the star party
2-9 August 2009
Educational event for school students to study advanced topics of astronomy. Event is co-related with the Star party for hobby astronomers.
Search IYA2009 National Nodes
---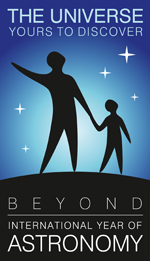 National Nodes: 148
Organisational Nodes: 40
Organisational Associates:33
National Websites: 111
Cornerstone Projects: 12
Special Task Groups: 11
Special Projects:16
Official Products:8
Media Partners:22