Morocco
Single Point of Contact
Prof. Hamid Touma, Président Morocco Amateur Astronomers
Faculté des Sciences de Rabat
avenue Ibn Battouta
MA-10102 Agdal, Rabat
Morocco

---
The Moroccan associations will participate to the activities of IYA2009 are following :

* Moroccan Astronomical Amateurs Network ( 10 associations around the kingdom)
* Rabat Ribat Al Fath Astronomical Observatory
* Moroccan Science and Technologie Education Network
* Cultural Action Club, Astronomical team of the Rabat Science Faculty
* The Moroccan Persons who will participate to this IYA2009 are : Hamid TOUMA, Samir KADIRI, Hassan TALIBI, Zakaria BELHAJ, Amine BOUBNAN, Amine GRAIGAA, Abdelatif BENDAHOU, Sanae TABIT, Mohamed HANAOUI, Badr BELAHCEN, Mohamed SEMLALI, Hassan DOUZI, Mohamed IBHI, Raja CHENNAOUI, AYOUB KHEYATI,

We propose at now for this IYA2009 :

1. Some conferences on astronomy in Rabat, Casablanca, Agadir, Tanger, Salé, Oujda, Tetouan, Marakech, Guelmim, Khouribga
2. Some nights of observations of the sky (planets, Moon, Sun,...) at the Rabat Ribat Al Fath Observatory with a telescopes (510 mm, 250 mm, 200 mm, 110 mm) and the naked eyes observations of the constellations.
3. Some "ateliers" for the scolars at some public scooles in many principales cities of the kingdom.
4. Expositions of astronomy themes. In this way I have contacted the French Astronomical Association. We will studie this possibilité to have this expositions pictures via the Franch Ambassy in Rabat and the Rabat Mohamed V University.
Search IYA2009 National Nodes
---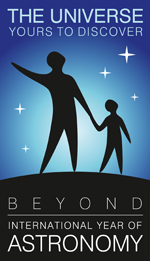 National Nodes: 148
Organisational Nodes: 40
Organisational Associates:33
National Websites: 111
Cornerstone Projects: 12
Special Task Groups: 11
Special Projects:16
Official Products:8
Media Partners:22