Netherlands
Single Point of Contact
Dr. Jan Lub
Leiden Obsevatory
Leiden University
PO Box 9513
NL-2300RA Leiden
Netherlands

---
Highlights

Weekend of the Stars
4 - 5 April 2009
Big public event in science centre NEMO, Amsterdam, with lectures, movies, workshops, presentations by astronomers and astronomy amateurs and lots of other activities for children and their parents. More than 30 public observatories open their doors at night.
'Travel to the Unknown' - Science Month 2009
October 2009
The annual October Science Month in the sign of astronomy: 'Travel
to the Unknown'. Astronomy institutes open their doors, several school
projects (Galileoscope and UNAWE), activities in public libraries.
The Discovery Truck
Around the year
Movable Infrared Lab visiting schools and city squares.
http://www.hetonzichtbareheelal.nl/
Search IYA2009 National Nodes
---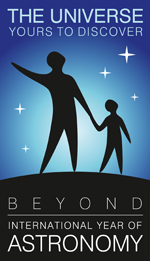 National Nodes: 148
Organisational Nodes: 40
Organisational Associates:33
National Websites: 111
Cornerstone Projects: 12
Special Task Groups: 11
Special Projects:16
Official Products:8
Media Partners:22