Oman
Single Point of Contact
Dr. Saleh Said Al-Shidhani
Physics Dept. College of Science
PO Box 36
Sultan Qaboos University
123
Oman

---
Highlights

Space Week activities
4 - 10 October 2009
A series of lectures and activities to highlight the role of space technologies in improving raising the standard of living in the Earth.
100 Hours of Astronomy
2 - 5 April 2009, AL-Sahwa Gardens
To allow the largest number of people to look through telescopes and explore celestial bodies in globally synchronised manner.
Star parties
Monthly
A series of observations of astronomical phenomena such as eclipses, and training members on how to use modern goto telescopes.
Search IYA2009 National Nodes
---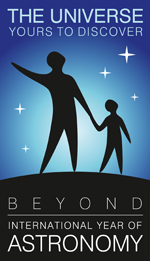 National Nodes: 148
Organisational Nodes: 40
Organisational Associates:33
National Websites: 111
Cornerstone Projects: 12
Special Task Groups: 11
Special Projects:16
Official Products:8
Media Partners:22