Philippines
Single Point of Contact
Dr. Cynthia P. Celebre, Astronomy Research and Development Section (AsRDS)
Philippine Atmospheric, Geophysical and
Astronomical Services Administration (PAGASA)
Department of Science and Technology (DOST)
Science Garden Complex
Agham Road, Diliman
Quezon City 1101
Philippines

---
Highlights

Opening Ceremony of the Philippine Celebration of the International year of Astronomy 2009 (IYA2009)
19 January 2009
The Opening Ceremony will be highlighted by the ribbon cutting of the FETTU Exhibit and astronomy lectures to students, science teachers and amateur astronomers.
National Astronomy Congress
No date yet but last quarter of 2009
Aspires to bring together local and foreign amateur and professional astronomers, scientists and educators to interact, discuss and share information that may contribute towards the enhancement of interest in the science of astronomy.
Astronomy Olympiad
No date yet but last quarter of 2009
A contest in astronomy for high school and college students that aims to enhance awareness of astronomy.
Search IYA2009 National Nodes
---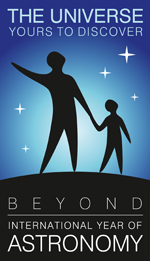 National Nodes: 148
Organisational Nodes: 40
Organisational Associates:33
National Websites: 111
Cornerstone Projects: 12
Special Task Groups: 11
Special Projects:16
Official Products:8
Media Partners:22