United States - Puerto Rico
Single Point of Contact
Carmen A. Pantoja
Departamento de Física
Universidad de Puerto Rico
Recinto de Río Piedras
PO Box 23343
San Juan 00949-3343
United States - Puerto Rico

---
Highlights
Conference Cycle
Dates to be confirmed
A series of talks by scientists and professionals about astronomy related topics. A preliminary list of speakers can be found at the homepage.
Astronomy Concert
2 - 3 October 2009
Presentation of "The Planets" by the Puerto Rico Symphony Orchestra with the High Definition Video Suite from Adler Planetarium.
Publication of Collectible Astronomy Supplement
Dates to be confirmed
Publication of a printed insert with astronomy theme to be distributed during the conference cycle and a local newspaper.
Search IYA2009 National Nodes
---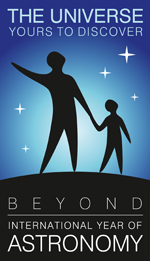 National Nodes: 148
Organisational Nodes: 40
Organisational Associates:33
National Websites: 111
Cornerstone Projects: 12
Special Task Groups: 11
Special Projects:16
Official Products:8
Media Partners:22