Rwanda
Single Point of Contact
Mr. Pheneas Nkundabakura
Kigali Institute of Education (KIE)
P.O. Box 5039
Kigali
Rwanda

---
Highlights

Distribution of 20 Galileoscopes and 1 telescope for amateurs
March 2009
Galileoscopes will be distributed to 20 high schools and an amateur telescope to an institute of high education in Rwanda.
Conferences
February - December 2009
A series of conferences dedicated to universities, high schools and public.
Astronomy in the media
January - December 2009
At least an article per month in the leading newspaper. Through the newspaper a quiz will be organised.
Search IYA2009 National Nodes
---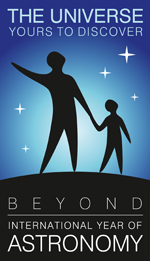 National Nodes: 148
Organisational Nodes: 40
Organisational Associates:33
National Websites: 111
Cornerstone Projects: 12
Special Task Groups: 11
Special Projects:16
Official Products:8
Media Partners:22