Sweden
Single Point of Contact
Prof. Bengt Gustafsson
Uppsala University
Box 515
S-751 20 Uppsala
Sweden

---
Highlights

Astronomy exhibited
At least 5 different exhibitions and several with clear Galileo-connections (e.g. at the Nobel museum, in a touring exhibition).
School children observing
Competition for Nordic high-school students to propose and carry out programs at NOT. Winners also name an asteroid. Several other telescopes equipped for observations from the class-room.
Cosmic firework projected on the Stockholm Globe Arena
15 January
Flashes the beginning of IYA2009 and the largest model of our Solar System, Sweden Solar System where the Globe represents the Sun, and the rest of the system extends through Sweden.
http://ttt.astro.su.se/swesolsyst/

Search IYA2009 National Nodes
---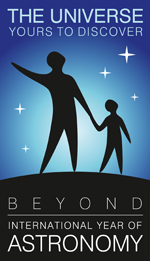 National Nodes: 148
Organisational Nodes: 40
Organisational Associates:33
National Websites: 111
Cornerstone Projects: 12
Special Task Groups: 11
Special Projects:16
Official Products:8
Media Partners:22