Tanzania, United Republic of
Single Point of Contact
Dr. Noorali Jiwaji
The Open University of Tanzania
Faculty of Science Technology and Environmental Studies
PO Box 23409
Kawawa Road
DAR-ES-SALAAM Kinondoni
Tanzania, United Republic of

---
Highlights

Essay Competition: "Outer space as a key to the survival of mankind"
Announce - 31 December 2009, submit 30 April 2009
Essay competition open for different age groups to encourage the view of space as beneficial.
Workshop on "Astronomy Education as a key to Development"
15 July 2009
Highlighting the need to introduce astronomy in curricula from school level to tertiary level.
Distribution of at least 300 Galileoscopes to 300 Schools across Tanzania
Mid-2009
Contributing towards science equipment in schools and enabling pupils to watch the skies.
Search IYA2009 National Nodes
---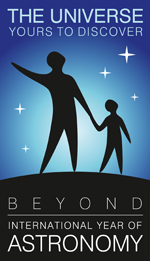 National Nodes: 148
Organisational Nodes: 40
Organisational Associates:33
National Websites: 111
Cornerstone Projects: 12
Special Task Groups: 11
Special Projects:16
Official Products:8
Media Partners:22