Uruguay
Single Point of Contact
Dr. Tabare Gallardo
Departamento de Astronomia
Facultad de Ciencias
Igua 4225
Montevideo 11400
Uruguay

---
Highlights

Descubriendo Nuestro Cielo + Programa 19 Capitales + Carne Galileano
Throughout 2009
Open and massive telescopic sessions and mobile digital planetarium sessions all over the country and certification of having repeated Galileo's observations.

Olimpiadas de Astronomia y Astronautica + Astronomo Por un Fin de Semana
Throughout 2009
A national and then Latino-American knowledge competition (partly www based) plus training in observational astronomy from a professional observatory.

Parques Astronomicos y Relojes Solares
Throughout 2009
Sundials, Stonehenge-like structures and scaled Solar Systems in parks, schools and squares.

Search IYA2009 National Nodes
---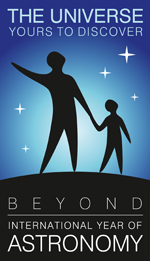 National Nodes: 148
Organisational Nodes: 40
Organisational Associates:33
National Websites: 111
Cornerstone Projects: 12
Special Task Groups: 11
Special Projects:16
Official Products:8
Media Partners:22