IYA2009 News Round-up
17 July 2009
It's that time again, when we leaf through pages of the internet and see what killer IYA009 stories have been making headlines. And what a week it's been, with the 100 Hours of Astronomy sidewalk astronomy and star party awards announcements. 100HA has also been in the blogs this week, so let's highlight a prime example, courtesy of Upamanyu Moitra's post 100 Hours of Astronomy: The Final Word. Upamanyu flew the flag for West Bengal during 100HA, and it was, as he says, AWESOME! Here's something to bear in mind though, astrodudes: the 100HA follow-up, called Galilean Nights, is currently being put together by a crack team of astronomers and communicators. It's taking place on October 23/24, and will be radical.
To Time now, who recommend celebrating IYA2009 in style with a stay in the Pic du Midi, atop the French Pyrenees. They say this is "one of the best places on earth to join the star-gazing fraternity", and it certainly sounds it. The swanky hotel's prices include telescope tours, but for 280 bucks a night, that's the least they could do.
Yo! Let's rock on over to typicallyspanish.com who have been celebrating Spain's contribution to the IYA2009 Moon for All Mankind project. This scheme got together people from many nations to each image a section of the Moon, which were then complied into a groovy mosaic. Says Typically Spanish, "Spain's segment, number 33, is by Antonio Torres Montojo, and includes, EFE reports, the crater Alphonsus, 2.7 kms deep and 108 km across, named for Alfonso X el Sabio, the king who ruled Castilla y León in the 13th Century." Hang on, they're categorised it under "Spanish Oddities". Huh! Universe Today have posted a story about Moon For All Mankind too, which includes some great images.
Astronomy at university isn't just for young, hip frat boys - grandparents can also involved, say the University of Wisconsin-Madison. To mark IYA2009, astronomy features in their ninth annual Grandparents University. Sessions are taking place on July 16/17 and 23/24. The courses are also open to grandchildren, aged between 7 and 14, which will give lessons an interesting twist. According to the itinerary, there is the opportunity to "attend a Badger picnic"... sounds like the grandparents will be entering into the grand frat boy tradition of "doin' sumthin' crazeee!"
Not to be outdone, the University of New Mexico has announced that two of its faculty members are helping out with the She is an Astronomer IYA2009 Cornerstone project. They'll be present at a free public astronomy event for girls aged 8 - 18, taking place Sunday 9 August from 1 to 6pm at the Open Space Visitor Center on Albuquerque's west side.
Before we part ways dear reader, let's whizz over to The Australian, for it would be remiss not to mention the excellent article they have there. All about IYA2009 and Australian events, it's written with a positively charming tone, and gets one hundred bonus points for this line: "This is the International Year of Astronomy -- a far more interesting topic than 2008's International Year of the Potato, which was big only in Peru and Ireland, apparently -- as 2009 coincides with the 400th year since Italian physicist Galileo turned a telescope to the skies to look at the stars." Go and read the rest of the article! After skimming the final round-up paragraph:
Remember that these summaries are English language-based, so check local sources for headlines in your own languages. Like El Pais and El Mundo in Spain, to give just two examples.
Search IYA2009 Updates
---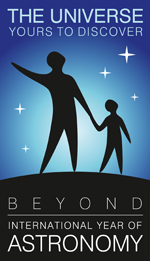 National Nodes: 148
Organisational Nodes: 40
Organisational Associates:33
National Websites: 111
Cornerstone Projects: 12
Special Task Groups: 11
Special Projects:16
Official Products:8
Media Partners:22