IYA2009 Updates
21 May 2010
This week is Mariana's last with the IYA2009 Secretariat. It is hard to overstate how vital Mariana's role has been for the IYA2009 Secretariat and IYA2009. Since joining the team in 2008, Mariana has been consistently dedicated and professional. IYA2009 has been the largest science outreach project ever and Mariana has been at the centre of this effort. This fact is something Mariana should certainly note with well-deserved pride, as we are all certain that it would not have been the success it was without her contributions. The many positive comments about the Secretariat from the SPoCs unquestionably reflect this sentiment. The Cosmic Diary in particular embodies Mariana's success stories; as a global Cornerstone it was important for it to be released on 1 January 2009, a tight deadline admirably achieved. Throughout the project's duration Mariana's skills ensured that it consistently ran smoothly and to plan, fitting perfectly with the aims of IYA2009. We all wish Mariana every success with her future projects.
Photo Report: TWAN in Australia
During the IYA2009 TWAN exhibition and presentations traveled from Sydney to Perth on both sides of Australia and it continues to seek venues and related events in 2010 and beyond. More information: http://www.twanight.org/newTWAN/news_photo.asp?newsID=6050
Bringing the universe to the street: FETTU
From Earth to the Universe has just published an article on Journal of Science Communication: Bringing the universe to the street. A preliminary look at informal learning implications for a large-scale non-traditional science outreach project. More information: http://www.astronomy2009.org/news/updates/924/
InterSoles 3, The Third International Solar Eclipse Summit, will take place this year on 9th July 2010 in Buenos Aires' "Galileo Galilei" Planetarium. This conference, exhibition and show focusing on solar eclipses, offers valuable astronomical knowledge to an interested national and international audience. International scientists and astronomers will be presenting highly interesting facts and recent scientific findings about solar eclipses and space, accompanied by multimedia, movies, sky observation, photographic exhibitions, equipment, etc.For more information please visit www.eclipse-city.com.
PROAM Stellar Wind Workshop
Cnvento da Arrábida - Lisbon, May 28 - 30, 2010
The ProAm campaign about WR140 and its periastron passage ended in March 2009. The data of our targets, including B and Oe stars collected during the campaign, are now being processed. In addition, a number of other campaigns worked on the WR 140 periastron passage. The workshop in Portugal is organized for the evaluation of this 1st international ProAm effort and for presenting the results. A major issue is the professional need for spectroscopic data which can be delivered by advanced amateurs. We want to discuss the results of our MONS campaign targets (WR, Oe and B stars), other campaigns, physics of stellar winds, potential future projects, their needs and hurdles as well as respective strategies for a successfull work in the field of massive stars and their winds. More information: http://www.stsci.de/wr140/index_e.htm
Call for Abstracts: JENAM2010 IYA2009 related Special Sessions
New Trends in Global Astronomy Education: http://www.jenam2010.org/index.php?option=com_content&task=view&id=40&Itemid=77
Education and Outreach after the International Year of Astronomy 2009 in Europe: http://www.astronomy2009.org/news/updates/906/
Amateur and professional astronomers in Europe: http://www.astronomy2009.org/news/updates/902/
Search IYA2009 Updates
---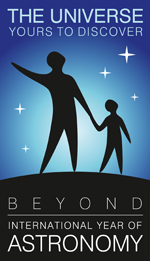 National Nodes: 148
Organisational Nodes: 40
Organisational Associates:33
National Websites: 111
Cornerstone Projects: 12
Special Task Groups: 11
Special Projects:16
Official Products:8
Media Partners:22