IYA2009 Updates
8 January 2010
Dark Skies Rangers Program is now on-line!
Through the Dark Skies Rangers Program, students learn about the importance of dark skies and experience activities that illustrate proper lighting, light pollution's effects on wildlife and how to measure the darkness of your skies. A highlight of the program is the citizen science project, GLOBE at Night, which enlists the help of students to collect data on the night sky conditions in their community and contribute to a worldwide database on light pollution. To learn more about the program and its activities, see http://www.darkskiesawareness.org/DarkSkiesRangers/.
A New Vision: Science and Tourism under the Stars
The StarLight Foundation has announced a new initiative to encourage the use of Science both as a resource for tourism and an essential part of sustainable tourism practices. The StarLight Tourism Certification System aims to ensure the quality of tourism experiences involving the nightscapes, the view of stars and the cosmos and the related scientific, cultural and environmental knowledge. Read more in their press release.
ESO Highlights in 2009
The year 2009 was celebrated as the International Year of Astronomy and has proved to be exceptional both for astronomy and for ESO. Read more here: http://www.eso.org/public/events/announcements/ann1001/index.html
100 Incredible Lectures from the World's Top Scientists
Including 14 about Physics and Astronomy: http://www.bestcollegesonline.com/blog/2009/06/18/100-incredible-lectures-from-the-worlds-top-scientists/
Nightshade astronomy simulator launched
Nightshade is open source astronomy simulation and visualization software specifically tailored to digital planetarium and educator use. More information: http://nightshadesoftware.org/
StarPeace Newsletter
http://www.astronomy2009.org/news/updates/710/
Big Dipper to Southern Cross: Remote Observing for All
Join others from around the world in sharing our sky -- north and south -- LIVE on 8 and 10 January
The southern Milky Way can be so bright that on a clear moonless night it will cause shadows, yet it is something people living in the northern hemisphere only hear stories of. In the same way, the beauty and objects of the northern sky are a mystery to southern residents.
Big Dipper to Southern Cross brings these two hemispheres together -- truly One People, One Sky.
For this project there will be two telescopes -- one in the northern hemisphere and one in the south -- on two different nights. No experience is needed. This is a chance to watch as an experienced telescope operator and guide show how they capture the wonders of the night sky.
Join other members of AWB Affiliates around the world. Chat will be available between participants and with the telescope operator. Join in or just watch.
See the AWB Big Dipper to Southern Cross web page for more information: http://www.astronomerswithoutborders.org/index.php/projects/remote-observing/188-big-dipper-to-southern-cross.html
New Website and Non-Profit To Help Sustain IYA2009 Legacy Projects
http://www.astronomy2009.org/news/updates/712/
Celestron Celebrates Fifty Years of Optical Innovation
http://www.astronomy2009.org/news/updates/713/
U.S. Legacy Includes Telescope Kit, Dark-Skies Awareness & More
http://www.astronomy2009.org/news/updates/714/
Ric and Jean Edelman Give 15,000 Galileoscopes to Classrooms in the US
http://www.astronomy2009.org/news/updates/715/
The Sky - Yours to Discover update
Children and young people from all five continents were invited to look directly at the skies, identify stars, connect stars with imaginary lines and create new constellations. The Penguin, the Elephant, the Mermaid and even Benjamin Franklin were found in the skies during 2009.
The special project "The Sky - Yours to Discover" involved associated partners in Australia, USA, Cuba, Brazil and Venezuela in America, Portugal, United Kingdom, Romania and Slovenia in Europe, Mozambique, South Africa, Uganda, Ghana and Kenya in Africa, India, Iraq, United Arab Emirates and Indonesia in Asia.
A NASA Goddard Finale to the International Year of Astronomy
The Visitor Center at NASA's Goddard Space Flight Center in Greenbelt, Md. presents a one-of-a-kind event featuring expert Hubble scientist Dr. David Leckrone on Wednesday, January 13, 2010.
Dr. Leckrone will recount his experiences as Senior Scientist for the Hubble Space Telescope for more than two decades. He will delve into the rollercoaster ride that was Servicing Mission 4—the last Shuttle servicing mission to the famed telescope. He will showcase some of the stunning images recently taken with Hubble's newly installed and repaired instruments.
A special preview of Hubble's successor, the James Webb Space Telescope, or JWST, will follow Dr. Leckrone's presentation. Dr. Jonathan Gardner, JWST Deputy Senior Project Scientist, will discuss the next-generation space observatory that will explore deep space phenomena from distant galaxies to nearby planets and stars.
The Goddard Visitor Center will host this free, one-hour lecture on January 13, 2010, at 7:00 p.m. Arrive at 6:30 p.m. to enjoy a captivating visual experience, Science on a Sphere, and use astronaut gloves to examine and operate tools from Hubble Servicing Mission 4.
While the universe is infinite, space for this event is limited. To reserve your seat, go to: http://education.gsfc.nasa.gov/iyaf.
For directions to the Goddard Visitor Center, please visit: http://www.nasa.gov/centers/goddard/visitor/directions/index.html

Cosmic Diary Closing Ceremony Live Blog
Follow the adventures of the intrepid IYA2009 Secretariat staff writer and Cosmic Diary live blogger Lee Pullen, as he tells all you need to know about what is going on in Padova, Italy, before, during and after the IYA2009 Closing Ceremony.
http://cosmicdiary.org/closing_ceremony/
Closing Ceremony Streaming
For those who are not able to attend, the Closing Ceremony will be broadcasted live on the official website: http://www.beyond2009.org/
Search IYA2009 Updates
---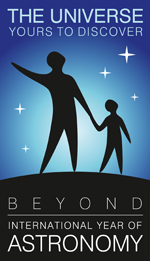 National Nodes: 148
Organisational Nodes: 40
Organisational Associates:33
National Websites: 111
Cornerstone Projects: 12
Special Task Groups: 11
Special Projects:16
Official Products:8
Media Partners:22